Slowly Getting Faster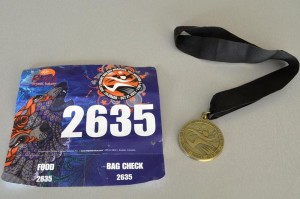 I ran the Boulder Half Marathon on Sunday. It remains one of the prettiest courses that I have ever run. It was a perfect fall day. The temperature at the start of the race was perhaps 50 rising to the mid 60s by the time I finished. The sun was bright. The leaves on the trees were all reds and bright yellows. The route passes by many farms and horse pastures.
It's funny, I've been consistently running since the fall of 2004, but still feel like a novice. I ran my first event, a half marathon, in May of 2005. I completed it in 2:08:24, middle of the pack for my age and gender.
This year I have been focusing on incrementally improving my speed. I've run three half-marathons in 2012, each one, slightly faster.
2:07:30 – February 5, 2012 in Tallahassee, FL
2:06:29 –  September 23, 2012 in Jackson Hole, WY
2:05:15 – October 21, 2012 in Boulder, CO
It's funny, even this small improvement moves me from the bottom half to the top third (34 of 103) for my age/gender.
My 10k times are similarly infinitesimally improving:
0:59:48 – March 14, 2010 Boulder, CO
0:58:25 – March 31, 2012 Tallahassee, FL
0:56:07 – April 28, 2012 Tallahassee, FL
I'd like to get my half marathon time under 2 hours. I have been steadily improving the pace at which I can run a single mile or two, but keeping that up for 13.1 miles is not something I have been able to sustain – yet.
Any advice for improving my speed/stamina more quickly?