Christmas in Sedona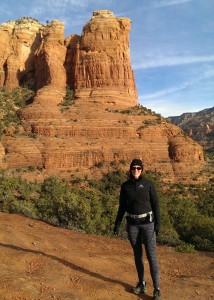 I am behind on a few travel reports.
2015 had some hard parts. My uncle finally died from complications of diabetes and end stage renal failure. My mom fell, broke her ankle and went from living independently in her own apartment to moving into an assisted living center where her own mom died. I find this hard; I suspect this is hard for my mom by 1,000.
I needed a personal health reality check. I decided to do a spa vacation at Christmas. I initially looked at Canyon Ranch but mostly the descriptions scared me. I wanted a health check, and respite, not necessarily boot camp. So I searched for spas of that quality that did not look so intimidating. I landed at Mii Amo, also in Arizona. While I'd been to Arizona a few times – Phoenix, Tucson – I'd never been to Sedona. It was exactly what I needed, in spite of the unprecedented daily rain/snow during my stay.
It's a 2+ hour drive from Phoenix to Sedona. Although I arrived a few hours before the official check-in time, I was met by my personal spa greeter who gave me gift #1 of my stay (a necklace), a tour of the spa, and my take home robe, water bottle, sport bag. The fireplace in my room was on, as was the Native American Spiritual music. The tone of the trip was set. The room was great – large sitting area, private patio (too cold for that), luxurious bath (separate shower and gigantic soaking tub). At Mii Amo, there are two days a week the guests are allowed to arrive – so there was an orientation event- mix of middle age female solo travelers (Me. And, I include the amazing Ginny turning 70 on Christmas Day before spending the holidays with her family in this group), moms and daughters, couples, and one recently widowed father with his two adult (young 20's) daughters. Nice group; nice people; all with their own reasons to be there.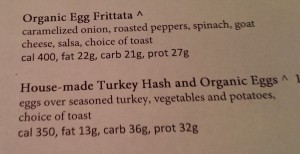 Those of us who were Mii Amo spa guests (it's part of Enchantment Resort) had a group dinner where we learned how to navigate the rest of our stay. We had the special blue (all inclusive) robes – spa treatments (2 x a day) included (tips prepaid); all meals included (except adult beverages or protein powder or supplements in the various daily juices). The food was fantastic. Fresh; all of the food colors; much locally grown. Nothing was salted but there were 3 types of salt (black (Asia), pink (Himalaya), & mixed color (?)) on the tables. Nutritional breakdown and calories were provided for each item on the menu (love! And why yes I bought the cookbook).
Oh, would you like your dessert delivered to your room while you've having your evening spa treatment? Unlimited room service included. Crazy.
For me each day was the same, the days ran together; and yet, it was both too much and not enough. Each day I enjoyed a guided red-rocks hike with 3 to 4 other guests of various abilities – Tea Cup to Devil's Sink Hole; Jordan Trail; Jim Thompson Trail. Some spa treatments were awesome (deep tissue massage; thai massage; rejuvenating facial) and some were just strange such as the Abhyanga Shirodhara – 2 person massage with lots of oil – hold hands to start; cold room; finally lots of blankets – warm oil poured on forehead & hair for 30 minutes. Relaxing but odd. Some of my cohort loved the experience. I just found it strange.
I took a variety of random fitness classes trying to expand my comfort zone – Foam Roller Release Class (ouch; need to do more of this); Full Spectrum Yoga (targeted to least fit person in room; no); their signature WOGA activity (walking + yoga = >>> walking vs. yoga; yawn, no); Tabata (kicked my butt; 20 seconds on; 10 seconds off; I'm adding this in. YouTube is a great resource for this. Ouch; more.); Fitness Walk (same as WOGA but faster and without the flicker of spirituality); one-on-one Pilates (ouch- even the memory- I have fit parts and wimpy parts; she found every wimpy part and worked them hard; this 100% met my expectation but ouch; her comment after laughing (chuckling?) at my imbalances – "you need to add something; not just another type of yoga…" harsh but true); Restorative yoga (more than 1 blanket needed; I may need this but it's not even my 10th choice as an activity; no for now).
Each day there were new gifts in the room. Fire place and Native American Spiritual music always turned on while I was out and about.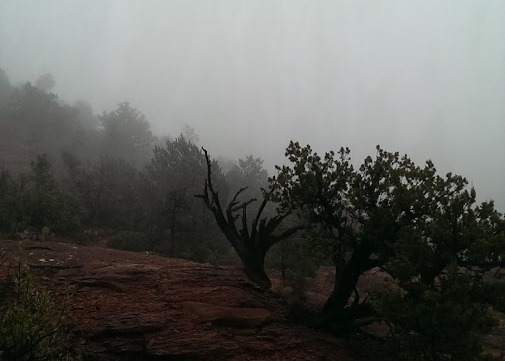 While each day was packed with activities, I had ample time to dig into my goals for 2016. More on that later. Mii Amo was a great place for resting and navel gazing (err quiet contemplation).
On the final day, there was a departure ceremony to share our purpose for coming; and what we learned/received from our experiences. My departure group was me and the family in my orientation – dad, two daughters (Mark, Avery, Emily) – who used to come with their wife/mom who'd died recently – and me. They were raw, candid, good people, gracious about sharing the moment and I still wish they'd had their privacy. Guide + Them; not Guide + Me + Them.
And then, it was over. I spent a touristy day browsing shops in Sedona and the art district Tlaquepaque. I bought some memories at the Renee Taylor Gallery.  I'd never heard of Larimar but now own some. And no, it's not local to Sedona, but I liked it best. And I don't think it has any magical energy properties.